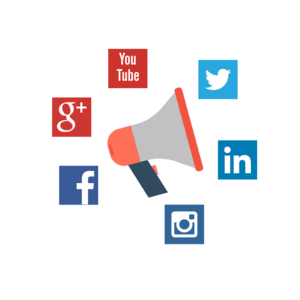 May 5, 2021
Tips on making your company's website more social
If your business is active on social media then make sure you are shouting about it on your website's home page. It might sound obvious but many companies don't do it and are missing a trick. These days having social media integrated on your website is a necessity and no longer a novelty. It provides a perfect sharing tool and if used correctly can be very effective.
If you are considering a new website or a refresh of your current one then consider our recommendations below into enhancing and supporting your social media.
Access to your social media channels
Your social media profiles should be prominent and easy to access on your site whether the home page or other pages. Avoid having them hidden in the footer or somewhere near the bottom of the page. You want visitors to see and access them with ease, and great placement will give them pride of place. It also keeps the lines of communication open long after they have left your site. See the below examples of great placement of social media profiles.
As well as this adding social media feeds to your site is also something you can do if relevant. If your framework of your site is static, you can still keep it fresh with the feeds from Facebook or Twitter.
Away from Facebook and Twitter, if you have a Youtube channel and are regularly producing video content, then where applicable embed your videos into your site. This could be on a product page if there are videos relating to them, or even any videos that may relate to certain blog posts. Embedding the videos will allow visitors to see you have a Youtube channel, access it, watch content and even subscribe.
An active blog
A blog should be a natural element of your website. It provides you with another way of sharing content and also demonstrates you as an expert in a particular business field. Producing at least one blog post a month should start you off if you haven't done so already. But beware with blogs that simply touch the surface of a subject will not do well with Google. Posts need to have in depth content with a minimum of 500 words. This will demonstrate you have genuine knowledge on a certain topic. Ensure there are options to share your blogs on social media too for visitors as this will provide more exposure. As will sharing them on your own social media profiles.
Good images
Good images on your site will certainly help attract an audience. There is also the potential to share these images on social media. Infographics are also including in this and again they can be shared on social media and on your site. Where possible use your own images but there are some sites, for example Pixabay who have plenty of copyright free images available to use.
Infographics can be created in house or by a design agency, we wrote a blog post about infographics and the benefits of using them here. They work well to illustrate detailed info about your business.
Putting these suggestions into place if you haven't done so already is hugely advisable and can be effective if applied correctly.
DO YOU WANT A NEW WEBSITE?
Or maybe an update for your current one? Teknet Marketing's Website Design And Development service can help you with this! For more information, or to make an enquiry, fill out the form on our Contact page! You can also email hello@teknetmarketing.co.uk or phone 0800 488 0400!