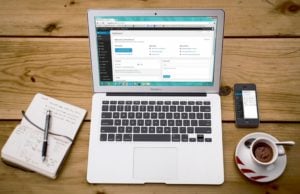 May 5, 2021
The Importance Of A Custom Website
There's no denying that there are a lot of different websites out there. Company websites, social media platforms, professionally designed sites, blogs sites, those ones which look like they belong back when the internet was a baby…the list could go on. According to Netcraft, in January 2018 there were over 1.8 BILLION websites. That's a lot, even if most of them aren't used. So in this world of websites, yours kind of needs to stand out. It needs to do what you want it to do, and quickly. There are all kinds of studies which show that visitors – your potential customers – don't stick with a website if it takes more than a few seconds to load. Can any of us blame them?
But as well as being a speedy little piece of the web, your site also needs to work exactly how you'd like it to – especially if most of your customers visit it to make a purchase. Each button needs to work how it should, the site should be easy to navigate. It should have all your contact details and information about the company on there. Because as well as helping customers, this can help improve your website's SEO.
Basically, it's a case of improving your website so that it is both easy to use for the customer and allows you to get the most out of their visits. It's a case of considering both of these equally that's important – you might want them to buy as much as possible (fair enough, that's why you've got the site after all), but if they're constantly seeing pop ups advertising different products, they might get bored and leave. So that £20 sale that you tried to make a £50 sale is now nothing.
It's all about looking at what you want your company to do and doing it well. If people have to ring up to register for something instead of doing it online, they might be less inclined to. If they really wanted what you offered they might, but what if it was on the spur of the moment? They might think twice. So have you got a service you'd like to offer? Put a page about it on your website. Maybe you're working on some new course? Add a registration tool online. If you use WordPress for example, a custom plugin can allow you to add to the functionality of your website and make it everything you need it to be.
It's not just about functionality though – it's about how a site looks. Maybe you shouldn't judge a book by its cover – but a website that looks like it belongs in 2003 might put you off. Your website needs to be easily navigable and readable. Oh, and look a little professional across multiple devices. In today's mobile-driven society, according to Statista over half of all worldwide web traffic was on mobile (51.12% of the total in the last quarter of 2017). It's important to remember that sites should be able to adapt to whichever device someone wants to see it on.
It's not just customer facing where web design is important – it's also for you, in the background. By improving the management of orders, stock, schedules, all kinds of things relevant to your business, you can ensure that it helps save you time and money too. Which might also help with customers – lower overheads mean you might be able to offer free delivery over a lower threshold per order, or maybe it means you'll be quicker to respond to their queries because you're not spending so long working on other things.
In today's world, it can't hurt to make things less difficult for people – that's why sites such as Amazon make it so easy to buy things. Just a few clicks and your order's complete. And that's if you haven't enabled One Click, or asked Alexa to order something for you. Instead of using a website which wasn't really designed for what you offer, or one that you've been using years despite now being more diverse in terms of what you sell, it's important to keep up to date with a website. Keeping everything current help to ensure everyone, customers and staff, has the best experience when interacting with your company. Your website doesn't need to have constant updates all of the time – but it does need to be fit for purpose.
Confused by web design?
Not sure how to get your website to be the best it can be? Teknet Marketing could help make your website exactly what you want. Interested? See our Website Design and Development page, email hello@teknet.io or phone 0800 488 0400 for more information.