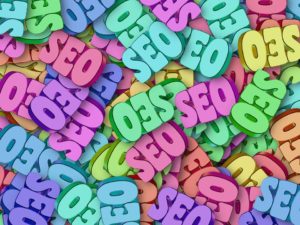 May 5, 2021
SEO – Not Just About Keywords
We've already done a couple of posts about SEO, and said how keywords are great when it comes to rankings. We also mentioned in this post the importance of both on and off site SEO to your website, and ways to improve it.
Whilst they are good when it comes to SEO, keywords aren't the only things which can help your rankings. Obviously they are a great help, and should never be discounted, but there are other things which can be done if keywords aren't quite lifting your rankings as much as possible.
We've already mentioned backlinks in the previous post too, which are also worth building up if you can. But apart from that, there are some things you can do which might help your rankings – and if not, they'll still be good for your website.
There are some different things you can do – here's a few of them.
SSL Certificate.
This was an important part of the recent GDPR update – companies need to ensure data entered into their website and stored by the business is encrypted. Not having an SSL certificate affects SEO rankings as Google's algorithm now favours sites with SSL's.
Browsers like Google Chrome and Firefox have also made it difficult for visitors to even reach an unsecure site, with other browsers expected to follow. Which is another good reason to make your website secure.
Mobile Friendly Websites.
Making sure your website works on mobile might be something we've mentioned before, but it needs mentioning again. A lot of people now browse the web on phones and tablets – meaning the overall share of mobile online surfers is growing. A website which isn't responsive, and can't adapt to a different screen size won't appeal to visitors so much – and might not rank as highly on search engines as a result. Because of this, it's definitely worthwhile making sure your website is mobile friendly and responsive.
Page Speed.
This is a little like the previous point – the speed of a website can help determine how easy it is to use. People aren't going to wait around for a slow website – and an article on Business News Daily says that Google's updates have recently made the speed of mobile sites a ranking factor for them.
As a result of this, it's definitely worthwhile trying to make your website faster. You could reduce the amount of large images on your site, and try using Google's PageSpeed Insights – which can help show where you could improve the speed of your website.
There's a few ways sites can be sped up – which is good as it means there are things you can do. A good loading time is typically only a couple of seconds – according to Search Engine Journal, 53% of people leave a mobile page if it takes longer than 3 seconds to load. It also says that as the load speed goes from 1 to 5 seconds, the chance of a person leaving a website before it loads increases by 90%.
Add Content To Pages.
So maybe we've mentioned this before – in that previous post already mentioned where we spoke about the need to have enough content on each page. But it's important, so we're quickly mentioning it here as well.
Having a website full of empty pages won't help search engines understand what your website is about. As they search your site, they need to be able to work out what relevance it has to a topic. This is key so the search engine can index and rank the site. If the search engine can't understand and index your website there's a chance it won't show up in search results – no matter how much else you do.
Use A Blog.
Blogging gets mentioned on this blog quite a lot right? We've already written this post all about it, and mentioned it in terms of on site SEO. But blogging is big nowadays – and having plenty of different posts on their own pages optimised for different keywords might help your website rank.
Let me explain a little better. Teknet Marketing has a blog (and the points for stating the obvious goes to…). You're reading it right now. So let's say that we wanted to boost rankings for an SEO-related search term – write a blog post on it, then the post has a chance of ranking. Someone might click on the link, read the blog, then make an enquiry about our SEO service. Or keep us in mind if they decide later that they're going to get an agency to optimise their website.
This isn't necessarily what would happen – and it definitely shouldn't be treated like a certainty. But if you want to rank for a few different niche keywords, this could be one way to do it. Even if you don't get conversions straightaway, people searching for a blog post might come back to your website later.
There are plenty of different ways you can improve your SEO – these are just some of them. It's good to remember that optimisation isn't just about finding keywords and using them the right amount of times on your site – although that's part of it. There are so many more things which can boost your rankings on search engines – and it's worth bearing this in mind when it comes to your optimisation strategy.
Not sure where to start with SEO?
Teknet Marketing's Search Engine Optimisation Service can help improve your website rankings on Google and Bing. For more information about it, see our Search Engine Optimisation page! Alternatively, to make an enquiry, email hello@teknetmarketing.co.uk or phone 0800 488 0400!