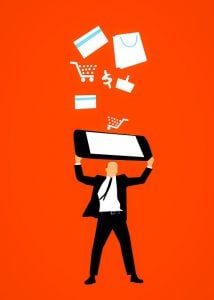 May 5, 2021
Marketing E-Commerce Websites
The e-commerce market in the UK is one of the largest in the world. For example: British shoppers buy more food online than any other country. With mobile phones and apps becoming smarter and easier, these factors are also driving the growth of e-commerce. It is increasingly important that your business improves its website in order to stand strong in such a progressively competitive field.
5 Inexpensive Marketing Necessities
Here are just 5 important factors your e-commerce website should demonstrate.
Fantastic SEO – The optimisation of title tags and meta descriptions for every page of your website is a fundamental marketing tactic. The first step to attracting increasing numbers of traffic to your website is to appear higher in search engine results. Title tags are displayed on Search Engine Results Pages (SERPs) and title tags convey an accurate and concise description of the page's content. They are often deemed to be the most important on-page SEO element (excluding overall content). In addition to this, reliable and informative meta descriptions will improve the click-through rate. Good quality content which incorporates keyword optimisation is also one of the most powerful tools for increasing e-commerce sales. Powerful, relevant, meaningful and well-written content is imperative to the success of any website. This includes valuable content on your website pages and regular blogs.
Homepage Merchandising – Choosing to put your most exciting product of the week/month on the homepage increases retail conversion. An attractive window display in brick-and-mortar stores communicates the message of a brand's identity. If the aura of the brand is conveyed pleasingly, this draws the attention of prospective customers and encourages said customers to step into the shop. In a similar way, if a potential customer clicks on a website and it captures their eye with the vibe of the brand/product, they are more likely to explore the rest of the site.
A/B Test the Checkout – Run regular tests for the checkout process! It is so important because User Experience (UX) directly correlates to the number of sales your site experiences. Effective A/B testing will turn people who are sitting on the fence at the checkout into buying customers. Ensuring that prospective buyer's follow-through into a purchase is the aim of A/B testing this process. Reduce the number of shopping baskets which are abandoned by improving the online shopping experience of your sites visitors.
Incorporate Product Reviews – Adding this feature to your website increases conversion rates. Halleluiah! Genuine customer reviews of a product in an unbiased way give a newfound assurance to buying online. If a pair of shoes have five hundred reviews and have an average five-star rating then it is reasonably safe to assume that the majority of people will love them. Therefore encouraging the sale. Customers being able to review products with a star rating, and also the option of a description and uploading a picture is also great for websites selling items such as clothes. Sending an automated email to customers asking for a review is the best way to increase response to reviewing a product. Reviewing a product needs to be made fast and simple for customers.
The Art of Social Media – Incorporate social media buttons which lead people to your social accounts. Having a pop-up feature asking people to like your social accounts for 10% off their first purchase is also greatly rewarding. When potential customers follow you on social media, they are constantly reminded of your brand and its consistent and reliable presence. Offering competitions via social media engages and rewards people for following the brand, creating a valuable sense of community. Social media done right will have a tremendous influence on sales figures because it diverts people back to the website to purchase.
In our office, we asked five people to each give an example of brilliant and necessary marketing, which contributes to the success of e-commerce websites. These are just a small sample of things that should be implemented within an e-commerce website, rather than an exhaustive and complete list. E-commerce is seriously big business and smart marketing will help your brand achieve super-duper growth in sales. Our marketing whizzes will transform your e-commerce website, launching your business for cyber-world domination.