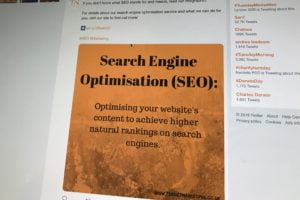 May 5, 2021
Infographics: What are they and why are they so important?
In an ever-expanding sea of information available on the internet, how can you grab your target audiences' attention quickly and effectively? One way to accomplish this is through the use of eye-catching and informative infographics.
What are infographics?
For those of you who have never heard of the term 'infographics' then to put it simply, they are a combination of content and graphic design. The aim of them is to tell a story and provide information that could be boring into something a lot more appealing to your audience. Ideally infographics are something that are very useful to share on social media.
Why are they so important?
Let's be honest a lot of people will turn away when they see lots of text. The use of an infographic should appeal more to your audience when your combining the information with images and colours.
Those images and colours should grab the attention. They are more likely to have people engage in them because they are more appealing than lots of words. Just think from your own perspective. What are you more likely going to look at when you compare just words to something like an infographic?
One advantage of an infographic is the ability to make complicated information more understandable. They allow you to present lots of data and information in a relatively small space. With the amount of information flowing through the internet each day, your targeted customers will prefer small but relevant bits of visual information. This will allow them to easily understand, appreciate and take action for.
Another benefit is the ability to boost your brand value. They demonstrate your value and knowledge in a meaningful manner. That's why it is important that they support your defined brand image and include a company logo and website address or other contact information.
Whether you choose to design graphics yourself or enlist the help of a graphic designer. Remember that the goal of an infographic is to tell a story. Introduce your topic and gradually explain your idea bit by bit using relevant data and information. Remember to include your logo and contact information. Be sure that the overall design complements your brand look as well.
INTERESTED IN THIS SERVICE?
For information, and details of the different types of materials we can create, you can fill in the form on our Contact page. You can also email hello@teknetmarketing.co.uk or phone 0800 488 0400 to make an enquiry into how we can help you.