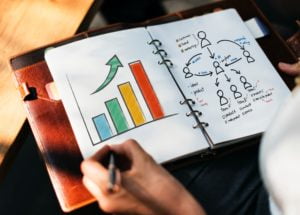 May 5, 2021
Conversion Rate Optimisation And Your Business
Conversion Rate Optimisation (CRO) is a process in which the layout of your website is custom-designed for visitors to complete an action. This process is making sure that possible customers are not simply visiting – but also engaging with your website. An optimised website encourages more interaction between your business and your online visitors.
This process leads to more people finding the service they need and more money for your business. Win, win for everyone – right?
WHAT IS THE AIM OF CRO?
A common misunderstanding of a 'converted' visitor is one who has completed a transaction. While this may sometimes be the case – it is not the only way in which a visitor can 'convert'. It is important to decide the action you would like visitors to engage in before optimisation. Once decided, you can make sure that your website layout encourages visitors to complete the specific action. This may be to fill in an online form which generates a potential lead for your business. The action may also be a transaction, generating direct sales for your business. With an identified action, the goal of CRO is to make your website as easy to use for visitors as possible. The end result? Getting them in direct contact with your service or product.
In order to achieve this, ongoing analysis is used on websites to examine the differences between 'converted' and 'non-converted' visitors. For instance, if an online enquiry form is only visible to a visitor on a specific product page, visitors interested in other products may not use this function. Conversion Rate Optimised websites test what features are leading to the action you wish for visitors to take. This then informs the layout of your website, removing the obstacles faced by your potential customers and resulting in various benefits:
MORE ENGAGEMENT.
So, why does this matter? You have invested time and money into creating a website and plan on generating more traffic through SEO and paid search. Take a step back and consider – what does web traffic mean for your business without visitors actually engaging with your website? Here is where the quality over quantity rule comes into play.
Rather than generating thousands of visitors a month with very little conversion, CRO allows your business to focus on what is working effectively on your website. By making informed layout decisions based on customer feedback, A/B testing or Customer Journey Analysis you can improve the overall experience for visitors on your website. Ultimately, by offering clearer navigation for your audience you can improve the overall quality of your website and in turn, your overall conversion rate. This process is excellent when considered prior to SEO and advertising as it allows you to form a specific idea of what is effective for your online audience. Following this, should you decide to invest in SEO and/or paid advertising you will get more return for your investment. Once you have an optimised website, increased traffic can reap greater rewards for your business in the future.
MORE CUSTOMERS.
Let's say that you have 1,000 visitors to your non-optimised website per month. During this time you've only had 4 potential leads through your website. Assuming that the aim is to encourage more enquiries, your conversion rate is just 0.4%. Now, for your website to lead to a return of investment, optimising the layout is crucial. This means taking on board feedback and analysing the behaviours of your online visitors. You should then be employing small changes to enhance their experience on your website. By doing so you may find that 4 conversions become 20 individuals who are interested in your products or services. This result would increase your conversion rate to 2%.
It is important to note that these results can be achieved without any further effort or time on your part. Progress simply means following the needs of your online audience. In black and white CRO leads to a better experience for your business as well as your customers. Now who wouldn't want that?
MORE SALES.
Hand in hand with your conversion rate comes a higher volume of sales. A strong website tailored to your audience will encourage them to engage with your website – whether they call, email, fill in a form or make a purchase– these actions drive your visitors further along the sales journey. By optimising your site for your potential audience, not only will this influence the individual customer, but also benefit your sales and reputation in the future.
All in all, CRO is a process in which you can ensure that your website is achieving it's potential for your business – leaving yourself and your customers more satisfied.
ARE YOU INTERESTED IN CONVERSION RATE OPTIMISATION FOR YOUR BUSINESS?
Not sure where to start? Teknet Marketing's Conversion Rate Optimisation Service can help to improve the conversion rate of visitors on your website. For more information on this, please see our Conversion Rate Optimisation Page! Alternatively, to make an enquiry, email hello@teknetmarketing.co.uk or phone 0800 488 0400!