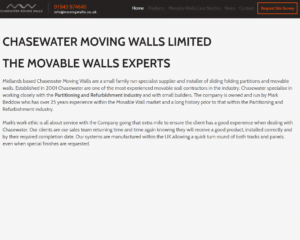 May 5, 2021
Chasewater Moving Walls Social Media Update
You may have already read about some of the work we've been doing for Chasewater Moving Walls recently – in this post where we talk about their new website and this one about the SEO campaign we did for them. In addition to both of them, we've also been running a social media campaign over the last few months.
Because Chasewater Moving Walls are a supplier of movable walls and partitioning systems, we decided to contact companies on social media – specifically, Twitter. We chose to target companies who might want to buy these movable walls, and were given a list of potential search terms to find relevant businesses. We did this with the aim of increasing brand awareness amongst Chasewater Moving Walls' potential customers, and to increase sales.
So far, we have been contacting companies regularly, with some responses to our posts on Twitter. As well as this, we've heard that there are other companies which have contacted Chasewater Moving Walls directly. We have heard from the company that this includes inquiries from businesses because of the social media campaign. Because of this, we consider the campaign to be a success, as there have been good results from it. It is an ongoing campaign, which so far has generated results.
All of the recent work we have completed for Chasewater Moving Walls has been successful so far – from the website to the increase in rankings and now this social media. Moving forward, we can complete any more marketing the company wants us to.
Would you like to reach more potential customers on social media?
Teknet Marketing's Social Media Marketing service offers a variety of options, so you can pick the one to suit you! For details or enquiries, fill out the form on our Contact page, email hello@teknetmarketing.co.uk or phone 0800 488 0400!