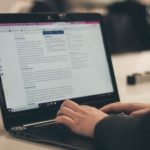 May 5, 2021
Ways of improving your company's online reputation
Every day you and your colleagues put in a lot of effort into your business. You do your absolute best to try and provide high quality service and products to your customers. While doing this it is of course important to remember to let people know about what you offer. Otherwise they may never find you!
For this purpose it is important you build an online reputation and to ensure it remains positive. In this day and age and the development of the internet, customers are checking companies before using their services or buying their products. From your webpage, blog, social media activity and the way you communicate, a potential customer can be helped with what they are looking for. We have come up with a few tips of how to maintain and improve your company's online reputation.
Active social media
Facebook, Twitter, Instagram, Pinterest, Snapchat. The list of social media websites in the modern day continues to grow with users always growing. When it comes to your business, social media profiles are a must. Of course people will search you via a search engine but it doesn't stop there. On your profiles, in particular Facebook, be sure to post entertaining content, run competitions if possible and try to get your audience to interact with you positively.
It might be slightly different on other profiles but they can still aid your company reputation. You can provide information about your newest products for example or links to your blogs or other pages on your website. If you are looking for like minding businesses then setting up a LinkedIn profile can do this as it brings professionals together.
Respond to every opinion – good or bad
Responding to queries and opinions online is a great way to show that your company is accessible and treats people respectfully whatever they have said. Responding to every message or review is something that should be done even if it is negative. Replying to the negative comments in a positive way will avoid any conflict.
Write a blog
A blog is a great way of showcasing the values of your company and of course the products you provide. It also can give you the image that you are an expert in your field and fill any reader with confidence that they are dealing with someone who knows what they are going on about.
With a blog you need to put all the effort in possible. So be sure to avoid silly grammatical mistakes, over complicated words and sentences and be sure to add relevant images or infographics as well.
If you need help with blogging then read our post with tips on blogging and how it can strengthen your brand.
Celebrate achievements and success
People like to see success and they will trust companies that are experienced and award winning. If they admire your business for the success then they may forward the news on social media. They may even recommend you to others in the real world. Sharing any success from your business whether it is a member of your team or you have been recognised for an award be sure to share the news on your website and social media channels.
So there are a number of ways to build a great online reputation for your business and ways that work. All businesses will have their own ways and secrets of creating a positive image. However the above will certainly help.
ARE YOU INTERESTED IN REPUTATION MANAGEMENT?
Do you want your business to look better online? If so, Teknet Marketing's Reputation Management service can help! For more information about this service, see our Reputation Management page! Alternatively, fill out the form on our Contact page, email hello@teknetmarketing.co.uk or phone 0800 488 0400!