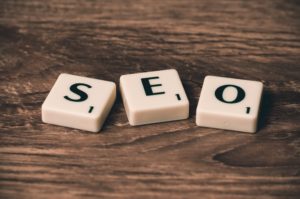 May 5, 2021
SEO – Both On And Off Your Website
SEO's one of those terms that if someone had said it years ago, it would have taken some explaining. However, nowadays it's a crucial part of any digital marketing strategy, and could be the difference between having to pay money to show up on search and appearing naturally. According to Internet Live Stats, there are currently over 3.5 billion Google searches every day, so SEO is definitely not something to ignore.
It's worth mentioning at this point that SEO isn't as quick as Pay Per Click (PPC) advertising. Search engines like Google and Bing are constantly updating their algorithms to make user experience better for searchers. The problem with this? It means that once you achieve a page, or even a number one ranking, the work doesn't stop there. Partly because of the changes to how pages are ranked (even if they are only small alterations), and partly because everyone else is probably trying to rank highly for the same search terms. In a nutshell, they want to overtake you and grab some of that search traffic for themselves. Which is fair enough – you might want to do the same in their position.
But if you're having trouble ranking highly, there are plenty of ways to improve your SEO – and climb higher up those search pages for the terms you want. One key thing is to improve both your on and off page SEO.
But what are these? It's important to have both for your site to rank, and there are a range of ways to do this. To put it briefly on page SEO is the content on your website, and off page SEO is the links back to your website from other sites.
So the next question is: how to improve on and off page SEO? We've come up with a few ways and ideas how you can do just that.
On Page SEO
Keywords
Working out what search terms your website relates to and what you want to rank for is crucial for SEO. If your website doesn't relate to what you want it to rank for, then search engines won't be able to understand what your site is trying to say. So they can't rank it anywhere.
Try to add a couple of keywords in to get pages to rank, but don't put them in too often or choose too many keywords for each page. Both of these would result in the site being too full of keywords to mean anything.
It's very important that you don't make your website so full of keywords that it doesn't make sense to visitors. This doesn't work like it used to. You have been warned.
Website
It's important to make sure your website is easy to understand to your potential audience. This kind of carries on from the previous point about not using keywords too often – your user experience is too vital to sales and people sticking around on your site to ruin it in pursuit of a slightly higher ranking.
However, there are some things which could help. Use relevant titles, or even just add a little more text to each page. According to Yoast, an SEO WordPress plugin, writing less than 300 words on a page you want to rank for means Google might not think it has any use to the user. So they won't rank it.
Off Page SEO
Blogs
Blogs are quite useful, because as well as contributing to your on page SEO by talking about topics surrounding search terms, they can help your off page SEO too. Content such as blogs are shareable, meaning people might link to them on their own websites. If you come across as knowledgeable on your topic or are something of an expert, they might reference what you say in their own blogs – linking back to your original content when it's mentioned or in a 'references' section.
If you're not sure where to start when it comes to blogging, we've written this post on the topic – it's definitely something worth considering as you can also link your blog posts to each other with sections like our 'relevant posts' bit at the end of each article. They add more links to your site – and although this is on page SEO, it still improves your site's optimisation.
There is one final point to make about blogging – that each post adds a page to your site. Which means there's more for Google to find, and more that you could show up for. Again, if your article gets referenced by other people who link back to it, that gives your page authority. Which helps with rankings.
It's not just blogs which can help with off-page SEO either. Other content you upload online can be useful too – videos, white papers, even social posts. If it helps your brand become more visible, then there is a definite benefit as more people share your content. Chances are, that if there's a larger presence of your brand across social networks, more people will see your links. Then, if you become known for producing good content, you'll get more traffic and links from websites. Which will improve your off page SEO.
There are more ways to improve SEO – both on and off page – but these are just some places to start. The key thing when trying to work on SEO is don't take anything too far – just adding more and more keywords or blog posts isn't going to work. Make sure all of your content is relevant to the terms you want to rank for, high quality, and user-friendly.
As I said earlier, SEO definitely isn't something to ignore. Rankings on search engines are too important to overlook. The good thing is that it's never too late to start improving your search engine rankings – sure, an older domain does have an advantage, but that doesn't mean a new website can't rank.
As modern-day life moves more and more online, the importance of SEO will only grow. Missing out on vital rankings will cost your website site visits – and in turn, what could have been valuable sales. Search Engine Optimisation could mean you don't miss out due to not being visible enough.
Would you like to improve your SEO?
Teknet Marketing's Search Engine Optimisation service could help your website move up search engine rankings – for more information see our Search Engine Optimisation page!
Alternatively, if it's any of the other services mentioned in this blog that you're interested in, check out our Services page for details! To make an enquiry, email hello@teknetmarketing.co.uk or phone 0800 488 0400.