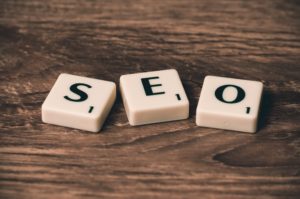 May 5, 2021
Search Engine Optimisation And Your Business
Search Engine Optimisation, or SEO for short, is a key part of any digital marketing strategy. The way pages are ranked slightly changes with each new algorithm update by search engines.
But if you don't understand SEO, why should you do it? What reasons are there to invest in search engine optimisation for your business? We've come up with some for you.
The amount of searches.
We mentioned in our previous post that Internet Live Stats says there are over 3.5 million searches every day on Google – and according to the same website this works out as over 68,000 searches every SECOND.
What we're trying to say here is that there are so many people searching on Google – don't forget this figure isn't including other search engines – each and every second that chances are you'd reach potential customers by ranking for relevant search terms.
Makes your business more visible online.
Search engines are a great way to help your business become more visible to people who want what you sell – but aren't coming to you direct because they haven't heard of you. By ranking on search engines for a relevant term, searchers might see your business, click on it and purchase. Who knows – they might come back later and become a loyal customer.
Relevance.
Okay, so this is a little like the previous two – but still worth mentioning in its own right. Because the point is that by ranking for the right search terms, people who want to buy can go on your website and do just that. Broader terms can work too – ranking will still get more people onto your website who might turn into customers. There's no denying that. More specific terms – such as a location – might be easier to rank for though, as chances are it's probably only people in that region who are optimising their websites for that search term. There's a very good chance there would be a bit less competition for those all-important page one spots.
Search Engine Optimisation is a great way of making your website more visible to potential customers. Ranking well for relevant search terms can mean that you end up being seen by more people interested in what you have to offer – which is great, right?
SEO is a key part of getting more visitors to your website, as it gives them another way to find you online. It's a little like having social media profiles, or a content strategy in that aspect. They're both ways to get more people onto your website or hearing about your company. But from there, things do change a little.
Whereas content is about giving people more things to look at on your website and social media about building your online profile, search engine optimisation is different. It's about reaching people directly – and using search engines to make your products more visible. Which is why it's great to utilise SEO alongside an existing strategy.
SEO is another one of those things which wouldn't have been so important 20 years ago. Like a lot of things which go into making a modern digital marketing strategy. Social media, content marketing, pay per click advertising – all of these weren't around years ago. However, they are definitely here to stay now.
The only thing to remember when it comes to implementing an SEO strategy for your website is that it's not just one thing which will make your website rank. Sure, keywords are important, and shouldn't be ignored – but that's not all. There are a range of ways in which you can improve your SEO – some of which we'll cover in an upcoming post.
The time is definitely here where you should be considering SEO if you want to increase website traffic – especially with new technologies like voice search which could revolutionise everything. In fact, the time to consider it might have been a while ago – but fortunately, it's not too late. It's never too late to start considering SEO and how optimisation can benefit your business. So don't ignore SEO just because you've never done it before. Search engines – and their corresponding optimisation algorithms – aren't going away any time soon. Which is why you need to be thinking about how to take advantage of this possible boost to website visitors and sales.
If you're still not sure about SEO, ask yourself this question – do you want to miss out on the opportunity it might hold for your business?
Interested in improving your company's rankings on search engines like Google and Bing?
Teknet Marketing's Search Engine Optimisation service might be what you need – we can boost your website rankings for relevant search terms. For more information on this, see our Search Engine Optimisation page! Alternatively, to make an enquiry, email hello@teknetmarketing.co.uk or phone 0800 488 0400.