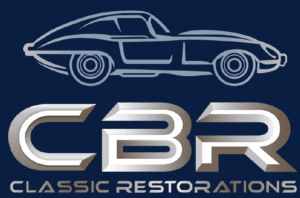 May 5, 2021
Our Design Services And CBR
CBR are a company who complete car bodywork and internal repairs. Aside from this, they specialise in classic car restorations. As well as having over 11,000 satisfied customers, they have been featured in Practical Classics magazine from 2015 to 2018.
They retained our design services to create a variety of materials for their upcoming shows later this year. The first of these is the XK70 Jaguar Festival in Shelsey Walsh Hill Climb on the 9th and 10th of June where they are exhibiting in the XK Village.
Included in the order was a brochure to highlight the services they offer. Along with this, there was also display materials including a show stand to promote their services at the shows. They also commissioned adverts, a TV show reel and promotional gifts to give away during the shows. We designed everything to their specifications, and made adjustments where needed to fit everything they wanted. When the work was completed and to the customer's satisfaction, we ordered the printed materials on behalf of CBR, making sure everything will be with them in time for their first show on the 8th June 2018.
Testimonial:
"Teknet Marketing provided a real high quality service for everything we needed. They were very helpful with suggestions during the design process that offered real insights on how to get the best results and made amendments to the designs until they were ideal.
They then delivered everything ordered on time and on budget!
Teknet Marketing have definitely exceeded my expectations of a design company, and I will certainly be using them for any future design requirements CBR might have."
Andy Waters
CBR Classic Restorations
Would you like promotional materials designed for your business?
Teknet Marketing's Design Services could be just what you need. For more information see our Design Services page. Alternatively, if you'd like to make an enquiry, email hello@teknetmarketing.co.uk or phone 0800 488 0400.
CBR's website is located at: http://www.cbrmotorbodies.co.uk/