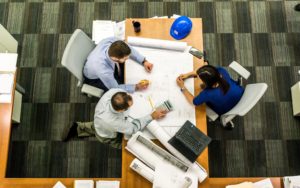 May 5, 2021
Designing A Professional Image
Good design can have a range of benefits for your brand – not least, gaining attention, creating a professional image, and a good return on the investment you put into getting materials designed and printed in the first place. What with the rise of digital advertising, this might not even be a physical brochure anymore – even online advertisements or social media competition images need designing.
But what are the exact benefits of having materials designed for your brand? Or at least, creating materials across a range of platforms which are consistent or related in some way? Here's a few of the benefits we've come up with for putting a lot of effort into design.
Professional image.
Having a consistent look across marketing materials like brochures and stands at shows can really help make your brand seem professional – and strengthen the image of the company overall. A professional image could also help you attract customers or appeal to bigger clients – depending on your business. It might drive more people to your website too.
Makes you memorable.
The right branding can help to get your customers to remember you – meaning that they might then be more likely to go onto your website and buy your products. Creating a memorable advert could mean yours is the company they'll consider when it comes to purchasing – even if it isn't immediately.
Let's face it – you don't want that leaflet you spent ages making to be ignored or thrown away do you? Well, ensuring it's designed well is one of the ways you can help stop this.
Bigger return on investment.
This might relate to what we've previously said. But it still counts. Having a more memorable design or professional image at shows can make you eye-catching – and end up with more customers as a result.
So there's three benefits of having well-designed marketing materials. There are more, but that should be plenty. What we're trying to say is that it would be great for your business to stay ahead of the competition. It could help you attract more business as a result.
But this doesn't explain how you can ensure your design is good. We're going to post an upcoming article on the topic, but here's some tips to get you started.
Be consistent.
Make sure your design is carried across each one of your materials – like your logo should be included, possibly in the same place across a brochure or leaflet for example. Ensuring this consistency can help with creating a professional image, and make sure people associate each new thing you do with your brand.
Don't use too many fonts.
Maybe just one or two should be on there. Too many fonts looks messy, and unprofessional. Only using one or two is great as it means people's eyes are on the text, and it also helps the leaflet be more consistent – which relates back to the earlier point.
Choose a couple of good fonts early on – or just one, which can still work well. When it comes to choosing a good font, make sure it's legible – as one that's hard to make out isn't going to hold people's attention for long. It needs to be clear to read. As well as this, a good font might be the same one as on your logo – which can then link your marketing materials to your business.
A good font could also match your business – so if you sell cupcakes for example, a curlier font might work, as opposed to a technology firm. It's not certain, and it depends on your individual business as to what font you choose – it's up to you in the end. Just make sure you don't choose too many of them – changing the size rather than the font can help show what's the headings and what's the small print.
Good quality text.
The text needs to grab people's attention – and hold it. Readers should stay interested – and follow a call to action on the advertisement. Long droning sentences or large paragraphs aren't the way to do this. Neither is too much jargon your audience doesn't really understand.
One more key point of this is to ensure you proofread the text. If you have a great text but there are spelling mistakes in it, people still won't see your business in the right way. They might laugh at the spelling mistakes instead of following your call to action. Text which has been proofread makes the business look more professional and can therefore help your return on investment. Check out this post if you need some help with proofreading.
There are plenty of benefits to having marketing materials which are well designed – and lots of ways you can do this. There's only a few of them in this post, and we'll discuss some more in an upcoming article.
If you're already spending the time and money to create professional materials to promote your business, it's worthwhile doing it properly – so you can ensure people see your business in the best light, and they are more likely to become customers in the future as a result.
Would you like some marketing materials designed for your business?
Maybe it's a leaflet or brochure? Or perhaps you're attending a show and would like a stand designing for it? If so, Teknet Marketing can help with all of these and more with our Design Services! For more information, see our Design Services page! Alternatively, to make an enquiry, fill out the form on our Contact page, email hello@teknetmarketing.co.uk or phone 0800 488 0400!