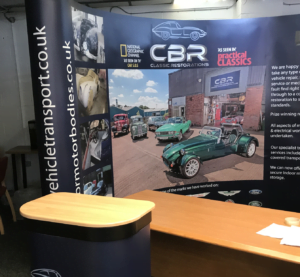 May 5, 2021
CBR Design Work Update
In May, we wrote this blog post talking about the design work we had completed for CBR ahead of their summer shows. This included an eight page brochure and large show stand, along with a TV slideshow of work they had undertaken. All of these products were designed with CBR's ideas and opinions in mind, and were created to their specifications in the run up to the shows. Each product was worked on over the time leading up to the first show to ensure they matched CBR's ideas.
The materials Teknet Marketing had created for CBR were first used on the 9th and 10th of June at the XK70 Jaguar Festival in Shelsey Walsh Hill Climb, where they exhibited in the XK Village. The company used our materials to show attendees their range of services, including classic car restoration and mechanical repairs. Along with this, another use of the materials was that they helped to showcase the CBR brand.
Following this show at the beginning of June, they have then continued to use the stand at other events.
Below are some of the images from the XK70 Jaguar Festival, including the materials Teknet Marketing designed. They include the show stand itself, the brochure on the podium, and the TV on the show stand is playing the slideshow we created for them.
Would you like professional products designed to showcase your business at an event?
Alternatively, are you after a brochure tailored to your specifications to highlight your business? If you'd like either of these – or any design services – then Teknet Marketing could help you! For more information about the design services that we offer, see our Design Services page. Alternatively, if you'd like to make an enquiry, then email us at hello@teknetmarketing.co.uk or phone 0800 488 0400.