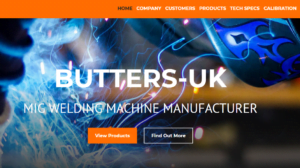 May 5, 2021
Butters-UK Search Engine Optimisation
We've previously written this post on the new website build we've done for Butters-UK. We also mentioned in that post about the search engine optimisation campaign we were starting for them, but that it was too early to see the results then.
It's not too early now, so we've got the results of our optimisation campaign. As we've been tracking each product Butters-UK sell there are a number of terms we're currently optimising the website for. Out of the 33 terms we are optimising for, within the first month of the campaign 23 of them appear in the top 50 results on Google. Out of these, 22 are in the top 20, with 20 of those appearing in the top 3 Google results. 17 of these terms – 14 of which are products the company sells – are ranking first on Google at the moment, with more products also in the top ten.
So far the campaign is proving to be successful, as many terms now appear in the first couple of pages of Google results. Going forward, we are continuing to watch these terms, and will carry on optimising the website if that is required. This campaign data is also only from the first month – we are continuing to watch the results moving forwards to see if anything else improves.
The new Butters-UK website can be seen here: http://buttersuk.co.uk/ .
Would you like to improve your website's search engine rankings?
Then Teknet Marketing's Search Engine Optimisation service might be what you need! For more information, see our Search Engine Optimisation page! Or if you're after a new website like Butters-UK's, check out our Website Design And Development page!
To find out more, or make an enquiry into any of our services, email hello@teknetmarketing.co.uk or phone 0800 488 0400.